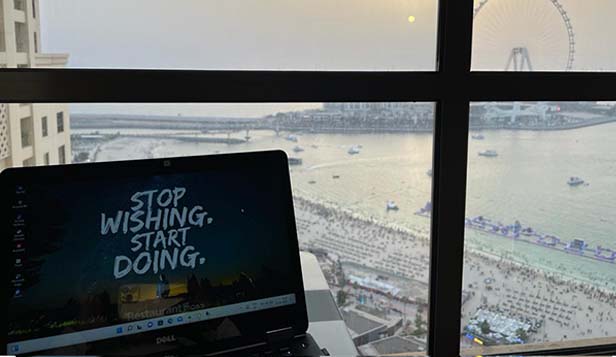 Speaking about the beginning of the Champion employee rewards-powered initiatives,President & Managing Director of Champion Infometrics, Ms. Hema Malini Nidamanuri says, "We initially got some yachts in Goa for our young champions and corporate teams to work from a relaxing location. Goa CM Manohar Parrikar Ji encouraged us to set up a yacht club and help bring up nautical infrastructure similar to Dubai. This resulted in us acquiring an island property to set up Champions Island & Champions Yacht Club."
These programs were conceived as exclusive entertainment destinations for Champions Group's employees. However, by combining them with remote work infrastructure, the company has turned them into self-sustaining profit-making units.
Speaking about what motivated the Chairman of Champions Group, Subhakar Rao Surapaneni to greenlight this initiative, she further adds, "Our foray into real estate was sparked by our desire to offer discounted homes to our employees. Through our Infratech and Prefabs division, we are providing global exposure to the Indian market."
The Champions Group has also ventured into the health and wellness segment with free diet plans and nutrition packages for employees based on their blood group types and pre-existing ailments. This is an effort to help employees and their families enjoy the wealth of immune-boosting ingredients and indigenous farm produce.
In light of the pandemic, strengthening immunity through nutrition for our employees and their families has become a priority for Champions Group. To further contribute to this cause, the company has activated new brands: ChampFit, FoodFit, and HealthFit. These flagship initiatives aim for the holistic well-being of the organization, clients, local communities, and much beyond.
The SVP of Lake B2B, Arun Pillai, states, "At the Champions Family, we offer world-class hospitality for employee bonding and leisure time with families. Options like workcation packages at Champions Farm, holiday packages in Champions Island, Goa, yacht cruises, yoga workshops, and all-natural superfood diet supplements make for a complete experience of work, play, rejuvenate."
"While each and every property owned by Champions Group is maintained keeping in mind the wellbeing of employees, we have devised a well-balanced rotational policy to ensure everyone gets an opportunity as per their convenience and travel plans. For example, the mid-senior leaders in the organization keep making plans to visit Dubai for vacation knowing they have an opportunity to avail free stay for their family at the premium Jumeira Dubai Residency which they can pre-book and plan to check into anytime," he adds.
Champions Group, founded in 1999, is a leading business conglomerate with a diverse portfolio of services like real estate, lifestyle, leisure, media, cloud computing, marketing, and data intelligence services. Over the last two decades, Champions Group has emerged as India's most trusted business enterprise, thanks to its vision of transforming companies with world-class customer offerings.